About us


The BoosterPlug Company was founded in 2009 and is based in Denmark, Scandinavia. Since then the BoosterPlug has been bought by more than 90.000 happy customers in more than 90 countries around the world.
Our philosophy is to provide reasonably priced, high quality solutions. Well researched and well documented, without exaggerating the benefits with fairytale like claims.

It's important for us to be on the same page as our customers, so everyone in the BoosterPlug company is riding motorcycles. And we obviously love our bikes as much as you do :-)




The BoosterPlug was originally developed by Jens Lyck; an electronics engineer with +35 years experience in bikes. He has been building fuel injections from scratch for many years, and has written several magazine articles on the subject.

As a dedicated motorcycle rider, he is also the editor of the www.motorcyclelife.eu travel blog.

The BoosterPlug company was founded in 2009, and was run by a Jens and a small dedicated team for the next 13 years. The customers interest in the BoosterPlug solution was growing year by year, it was obvious that a different and bigger company setup was required (Compromising on product quality and customer service have never been an option for us).

So by the end of 2021, the BoosterPlug company became a joint venture between the original owner/founder, and the Danish motorcycle company Bike-Shoppen.

Bike-Shoppen is a major motorcycle dealer, founded in 1989. They have a full line of motorcycles and equipment in their large modern shop floor, as well as a big and active webshop where they sell motorcycle parts and equipment mainly to Danish customers.

They have a vast knowledge/experience with motorcycles and online sales, so Bike-Shoppen is the ideal partner to continue the professional operation of the BoosterPlug company in the future.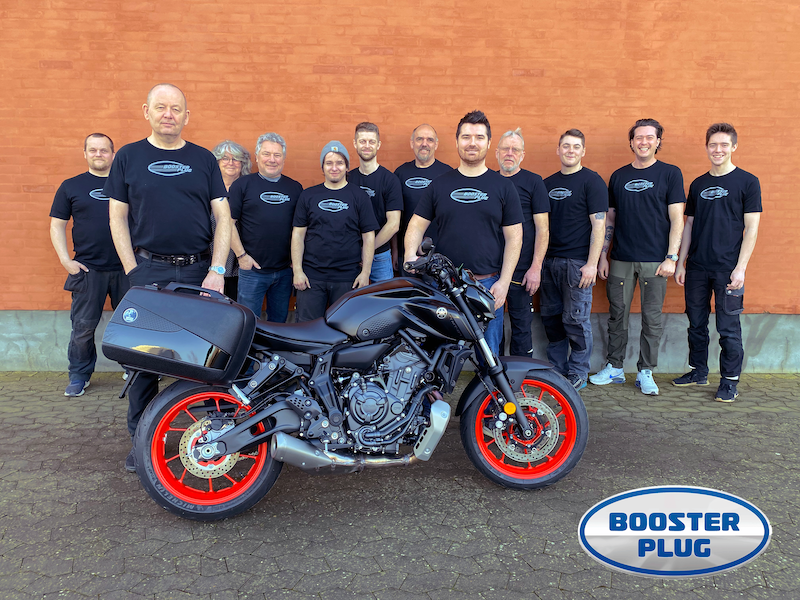 Company Address:

BP Operations ApS
Gl Skivevej 78N
8800 Viborg
Denmark





Company Tax number
DK 42 82 79 75





Contact mail:
info@boosterplug.com





Phone number:
+45 2342 6555